Tags Approval
A new G4 Feature where the rest of the community can help add information to each item by community members.
Here is some basic usage of it:
Any time you click on Edit on an item tag list and make changes, each of those changes will show up here in the tag queue. See this diagram for some basic explaination: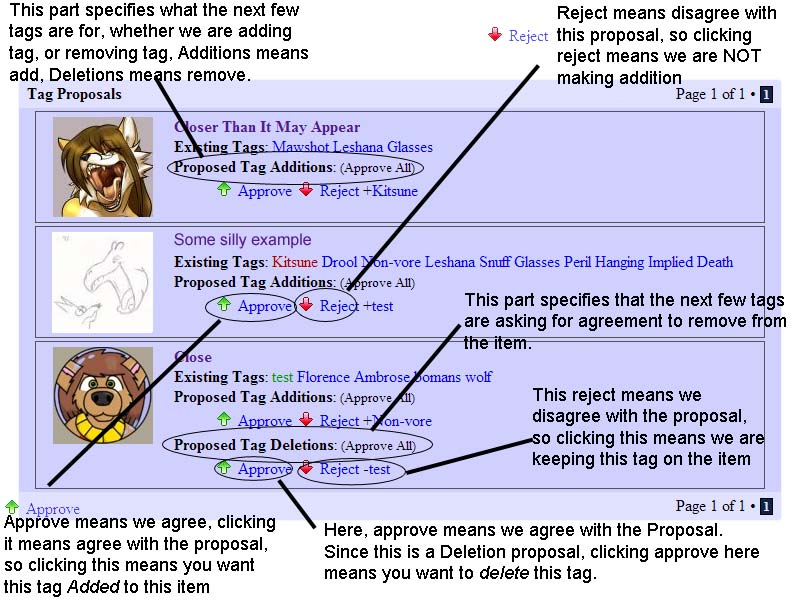 Each Proposal requires certain amount of Approve or Reject, aka, agree or disagree, to pass. In order to make sure no tags are being added blindly into items.
FAQ:
Q: What tag should I add?
A: Simply refers to the Tagging Guide for this
Q: How many Approve or Rejection does it take to pass a Proposal?
A: Currently it is 4 upvote for approving change, 3 for disapproving change, but it is subject to change depends on how this experimental system works
Q: Does item owner need to add their tags to Proposal?
A: No, Item owner can add or remove tags from their own Item as they wish.
Q: What if I do not want other to edit the tag list of my own item?
A: That feature will be added in the future
Q: What if someone keep messing up my tags?
A: It should requires serveral members to agree in order to mess something up, and we have logs to see who are the offender, if there are someone using this system to trolls, simply contact [email protected]