Forum rules
This is for general discussion, if you found something you want to post, please use one of the
upload forum
, if you made something and want to share them, please use the
work to be shared forum
!
Anyone else like when the Prey is annoying the Pred and then the Pred gets irritated or angry and eats the Prey. I don't know why but it's one of my favorite situations in vore. I'm curious if anyone else likes this situation in vore. Maybe I just like angry/grumpy Predators in general but I wanted to know if anyone else likes this situation. also maybe the Prey even annoys the Pred further once the Prey gets eaten and continues to try to annoy the pred while in the stomach it's just a funny concept for me.
Those are Nacho Fries!
Been posting for a bit
Posts: 36
Joined: Wed Aug 02, 2017 6:51 pm
Location: In Outer Space
---
Eat me if you can!

New to the forum
Posts: 5
Joined: Mon Apr 15, 2019 6:54 am
Blog: View Blog (4)
---
Love this! Grumpy predators are one of my favorite. Grumpy or playful. A combination of both is nice. Where the pred is all grumpy, and when grabbing the prey starts to smile in a revenge-full way.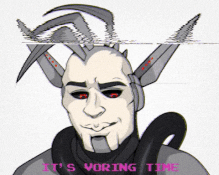 ---
Posts: 1323
Joined: Tue May 02, 2006 11:00 pm
Location: sweden
Blog: View Blog (22)
---
???
Posts: 2236
Joined: Sun May 11, 2008 11:00 pm
Location: warm and cozy in a woman's stomach
Blog: View Blog (27)
---
That's a scenario I really like, especially if the pred doesn't really like the sort of prey he ends up eating, but it's just SO annoying that eating it was the only quick way of getting rid of it
My vore code
An eldritch abomination that fused with a human a long time ago.
Male pred only
Somewhat familiar
Posts: 87
Joined: Mon Mar 25, 2019 10:11 am
---
I've perused some vore-related and non-related art of various medium that has this as precedent.

It's kinda comical, but the thing is, it's easy to mess up.
Amyrakunejo, Princess of Purity
Philosophical Pagan Anarchist
Advanced Vorarephile
Posts: 872
Joined: Wed May 22, 2013 4:14 pm
Blog: View Blog (7)
---
Tom and Jerry?

New to the forum
Posts: 4
Joined: Mon Jun 16, 2014 11:27 am
---
The Sage Wolf of the forest.
Advanced Vorarephile
Posts: 665
Joined: Thu Jun 11, 2009 6:58 am
---
I like it when prey annoys pred post vore like when there inside the preds stomach begging to be let out or moving around a lot in there.The Pred becomes annoyed by it and usually does something to shut them up or settle them down.
Participator
Posts: 200
Joined: Thu Jan 03, 2019 7:28 pm
Location: Texas
---
---
Return to General Vore Discussion
Who is online
Users browsing this forum: Eznam, HungryHorses, Merodi, Neironix777 and 9 guests