Forum rules
1) Try to upload related material to the correct subform please. They are
Soft vore
,
Hardvore
,
Unbirth
,
Analvore
,
Cockvore
,
Mawshot
,
Other/combination
,
Underage
,
Extra soft
and
Photo edit
.
2) Acceptable files: Drawing, stories, video clips (Flash, Gif or other movie format), roleplaying logs, vore games.
3) Please do not upload material that are specified "Do not Distribute ".
4) Any photo with real life human requires full permission and posted in
Photo edit forum
5) Label your material. If it have sexual, underage, scat, gore, or other possibly offensive content, please give warning!
6) Any material which involve underage and sexual exposure at the same time, must be placed in the
Underage
. To access the underage forum, please follow these
instructions
.
Read the rules in detail
here
Somewhat familiar
Posts: 97
Joined: Sun Dec 22, 2013 7:54 pm
---
Gitrog and Chub Toad are pretty good too
Participator
Posts: 290
Joined: Tue Jun 19, 2018 7:48 pm
Blog: View Blog (7)
---
There are a lot of "vore themed" creatures in MTG.
Cats, snakes, dragons, foxes, anything yummy, come come come, get in my TUMMY!
Show me your hell, and I'll make it worse.
Advanced Vorarephile
Posts: 640
Joined: Sun Oct 16, 2011 2:17 pm
Blog: View Blog (41)
---
Yes, thats true but thats one of the best ones in my opinion (And a new one too) so, I thought it deserved an own thread.
This one is also great by the way. Too bad the card sucks even though its concept is interesting gameplay wise.
Somewhat familiar
Posts: 97
Joined: Sun Dec 22, 2013 7:54 pm
---
I was definitely ogling that maw when i saw the card spoilered... looked to see if Svetlin Velinov had posted the art up so i could see it in non-blurry large-o-vision but couldn't find it
BUT!
I just checked again now and hey!
https://velinov.artstation.com/projects/W2XW9Q
check it out in all its glory
Intermediate Vorarephile
Posts: 470
Joined: Sat Nov 11, 2006 12:00 am
Location: Greenland
---
Somewhat familiar
Posts: 97
Joined: Sun Dec 22, 2013 7:54 pm
---
???
Posts: 2129
Joined: Thu Feb 12, 2015 11:22 pm
Location: Canada
---
There's also wild hunger, with a nice flavor text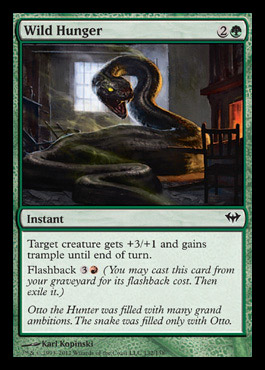 Evil genius, lover of catgirls, and tricking people into getting eaten is my game!
---
Posts: 1991
Joined: Thu Dec 04, 2008 12:00 am
---
---
Who is online
Users browsing this forum: tmdduq1515, Undue and 1 guest