Hey everyone!
I'm Monokarp. Those who supports
Emi
could already see my nickname mentioned in her videos - I'm her husband and the person who creates music and sound for her projects. I'm a programmer, and my oldest dream was - to become a videogame creator. Now inspired and amazed by this community, I'm starting to make mini vore games based on our (mine and Emi's) vore universe - "Enori World".
My first finished project:
GRAMITY
(made with Unity)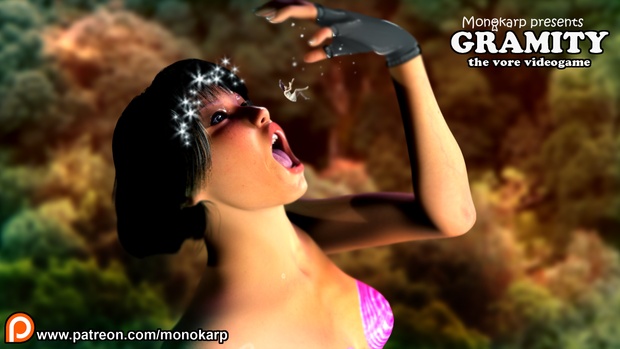 You are controlling the giant(ess)' hand, and your aim is to bring the tiny prey to the giant(ess)' eager mouth. The giant(ess) is using a special magnetic glove to keep the prey floating in the air until you help to bring it directly above the tilted head. Using the directional buttons you must not let the giant(ess) drop the prey anywhere except his/her mouth. This is easy in calm mode, but different weather conditions will make things harder.
Watch Gramity
on YouTube
.
Right now I'm soooo happy to say that the "Gramity" mini game is ready! Of course, some bugs may still appear (and I'll be happy if you let me know if you catch some), but in general, the game is completed. It includes:
- 6 levels with 12 playable Giants (one female and one male per level).
I tried all characters to be different, so, there are whites and blacks, asians, blondes, brunettes and red heads, slim, fat and muscular ones, younger and older ones.
- Prey customization (gender, skin and hair color, etc)
- Variable vore modes, such as: willing/unwilling, swallowing alive/chewing.
Emi helped me alittle with cutscenes, so, you will see on a special screen what happens inside the giant(ess)' mouth when he/she swallows or chews the prey.
So, due to this, you can set up your favorite combinations.
- Different weather conditions, such as: storm, snow, heat wave, fog, etc.
These are for gamers who dislikes to go easy ways and wants something harder to overcome. Plus, standard difficulty levels (Easy, Medium, Hard).
I've also added the "Cheater" level for those who just plays for fun and doesn't want to spend much time.
The last (bonus) level of the game is called "Stomach Dream" *exclusive for Patrons*: your Giant is standing inside the stomach of someone who is even bigger. For this level I used the Stomach model v.6.8 created and provided by Emi.
Download the
basic Gramity build
.
Download the
full Gramity build
(includes the Stomach Dream level).
About Enori World
Enori World is a place where giant and tiny people live together. They all live in domes created by Gramis - the giant Creators of this world. Nouris are normal sized people, like me and you, but they are tiny compared to the Giants.
The main feature is that, Nouri bodies contain an element called Nourika - an essential substance for Gramis, this is why Gramis must eat Nouris regularly.
In each Dome, eating Nouris go different way. In some Domes, it's a sacred ritual followed with lots of festive actions, but in some Domes it goes quickly and casually, Gramis just take Nouris like pills. In some Domes all Nouris dream about being eaten, but just single ones become lucky to enter a giant mouth under envious sights of their mates. In other Domes - becoming a food for Grami is a terrible fate. There are also such Domes where some Nouris are willing morsels, some are not, but Gramis eat all of them not caring about their wishes.
There are hundreds of Domes in the Enori World, and in each of them life goes differently...
Here are a few of Enori Arts already made by Emi:
"THE STORY" feat. Linda the Grami *Videocomic*
"THE STORY" feat. Linda the Grami *Comic*
"The Wonders" *comic* F/fmmf version feat. Ins