Patreon version is currently v2.0
Free version is currently v1.2 (Launch version)

-----


Note:

If my stuff is getting pirated again, I will quit making Giantess and Vore content for good. I will also start getting back at pirates as you can see here. Don't be a dipshit for others who don't care about you please. I care more about you than they ever would

Support creators instead of making them quit and disappear.
-----
Click a button to download:
NOTE: Free Version currently will not download and crash Chrome. Please download via the Mega Desktop App!
Free Version Differences
PLEASE

respect my one request
1) Don't go through my game files etc. If you do, don't say a word or hint it. EV-ER. I don't care what you saw or want to ask me. Its extremely demotivational, especially for content you're not supposed to see yet.
Non-Gentle Warning:
GSim and Ascendance is meant mostly for girls, this thing is made for your average guy. Unlike my other games, this one has sexual intent. If you are a gentle lover, this game is
not for you whatsoever
sorry! Everything is domination and death at the hands (or heels) of a very wealthy woman who thinks herself better than tinies and the poor. If you're not into toilet related stuff, you won't see any or even hints of it in menus as long as you keep the filter on. If you get curious because you love the game, be warned that
it will scar you
. Also since this thread is for a sexual game, go nuts on what you want to talk about it.
About this game:
Tsumi Umi Sushi is less like a standard game and more of an interactive story/event where you control a woman who goes about her daily work week. The idea is that this game has a focus on getting you to the fap content easily, repeatably, extremely randomized for immersion and to feel more like a real world. You'll want to use headphones as well (the sushi eating sounds are from an ASMR etc). Most of the content is packed together into the few areas in the game, not spread out like an RPG. Also I'm pretty sure I'm the first one to full on make a believable controllable giantess battle system in RPG Maker with realistic abilities.
Game Contains:
If digestion filter is turned off then you'll see stomach scenes after the first meal you eat at lunch etc (only the main event allows you to rub your tummy etc. Also this particular one is no longer used with the sushi in it)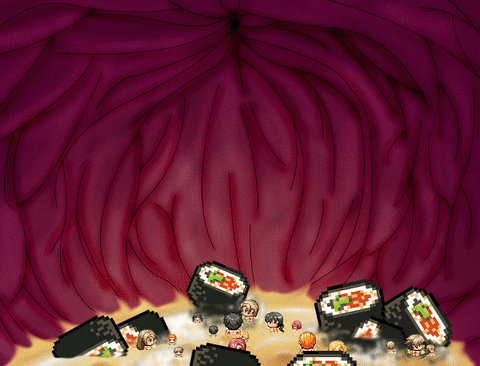 Animated GIFs
Screenshots
Battle System
How it works:
At first glance, it doesn't look like there's much to do or happening in this game. You wake up, go to work, at lunchtime you go find food/do events, return to work, then go home/do events, get dinner and go to sleep.
But behind the scenes, there's a lot happening that you won't notice! For example, the main sushi event (that originally all this game was going to be :annoyed: ) does this:
- Choose from 4 different plate configurations which randomly choose from presets to put sushi on your plate in POV.
- Every single conversation from Tsumi, to tiny, to descriptions, intros, if tiny is selected, after eating, sounds etc are randomly chosen at that time also. It might even choose not to play anything to avoid repeats!
- Tinies are unwilling: Have 40+ lines at minimum Tsumi will say to them
- Micros are willing: Have 40+ lines at minimum Tsumi will say to them
- I'm pretty sure it's around 70ish now but it's too much code to look back into. When you're playing it, and want to hear all the lines and combinations... it will take you a very... veryyyyyy long time.
- If you have digestion not filtered, you'll see animated stomach scenes, tinies/micros you've eaten (not all of them, not enough room in RPGMV), you'll be able to rub/talk to them up to 3 times also.
- For over 90% of the game, there's more than 10 lines that can play/happen. Example Crush battle stuff has 20 per crush ability and not all of them share lines either!
- You kind of see what I'm getting at? Mostly events are affected with having so many lines, but other conversations with NPC's will have some too.
Other stuff happening that you don't see or notice...
Dirty Content (Don't click the spoiler if you don't want to be disgusted)
One last thing to mention, a lot of the game records how many actions you did so you can check it out or compare with others if you like. Even the membership card number is randomly generated so everyone will have a unique one. The day you start playing, is also the membership date on the card!
It'll be easier to answer peoples questions than put everything in detail here. I'd also rather you try to find all the events on your own first, and I don't want to spoil them for you unless you're really stuck!