Update 9/18/2021:
Day 5 has been added, along with many bugfixes, digestion graphics for observer scenes, and optimized texture loading!
SMVisualA is a mod for OsmiumOrchid's superb text adventure
Saint Miluina's Vore Academy
. It adds graphics, sound effects, and simple animations to bring the experience closer to a visual novel. Saved games
are
compatible between SMVisualA and the browser game.
Video of the first day's gameplay:
https://vimeo.com/562228392
Download link:
https://mega.nz/file/uJJw1DwR#zWdnM6SOddtVsgxNokFByrD1MpRtw11rNhUusztR9Ug
If you enjoy the game, consider supporting OsmiumOrchid on Patreon:
https://www.patreon.com/osmiumorchid
Current list of mods
(PM me to get yours included here):
Vore is Murder by Anunnaki: Adds a total of seven new vore scenes to Days 1 and 3, setting up a new story thread. List of scenes:

The Aftermath by Anunnaki: (SCAT WARNING) Adds disposal content to Day 1-3's predator and prey scenes.
To install mods, place the contents of the zip into your SMVA_Data/mods/ folder. Since there seems to be some confusion about what exactly this means, I'll spell it out: do NOT alter the folder structure of the unzipped content in ANY way. Your mods folder should look like this: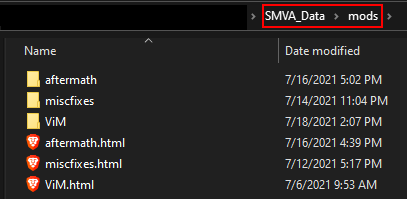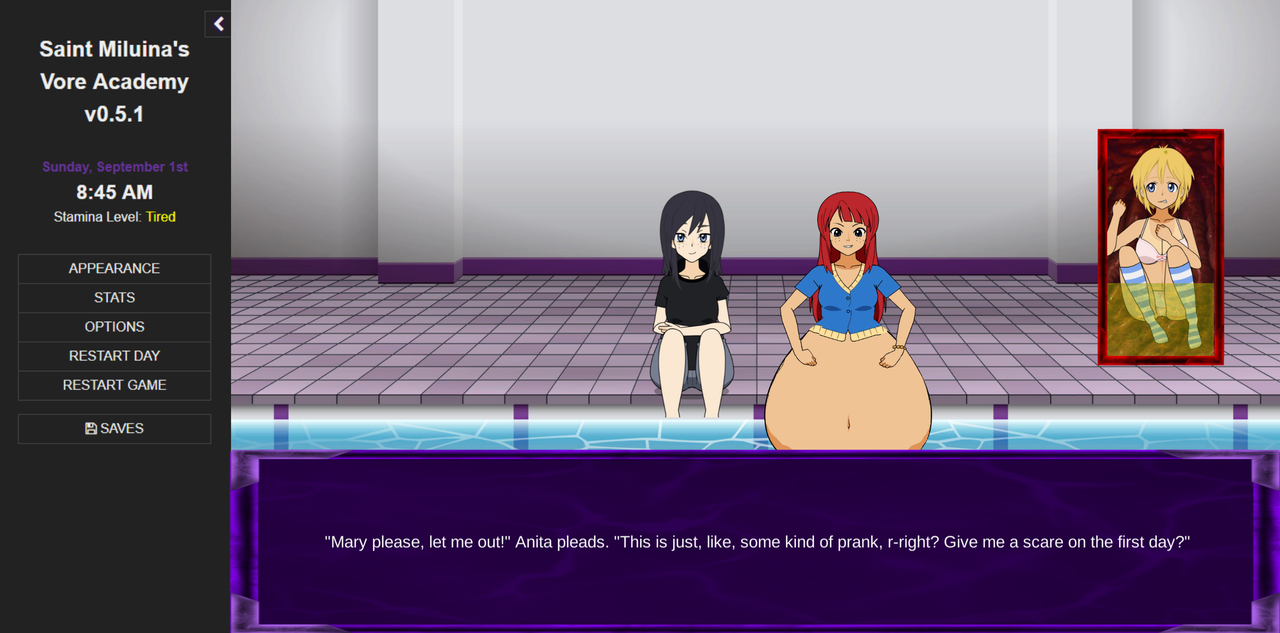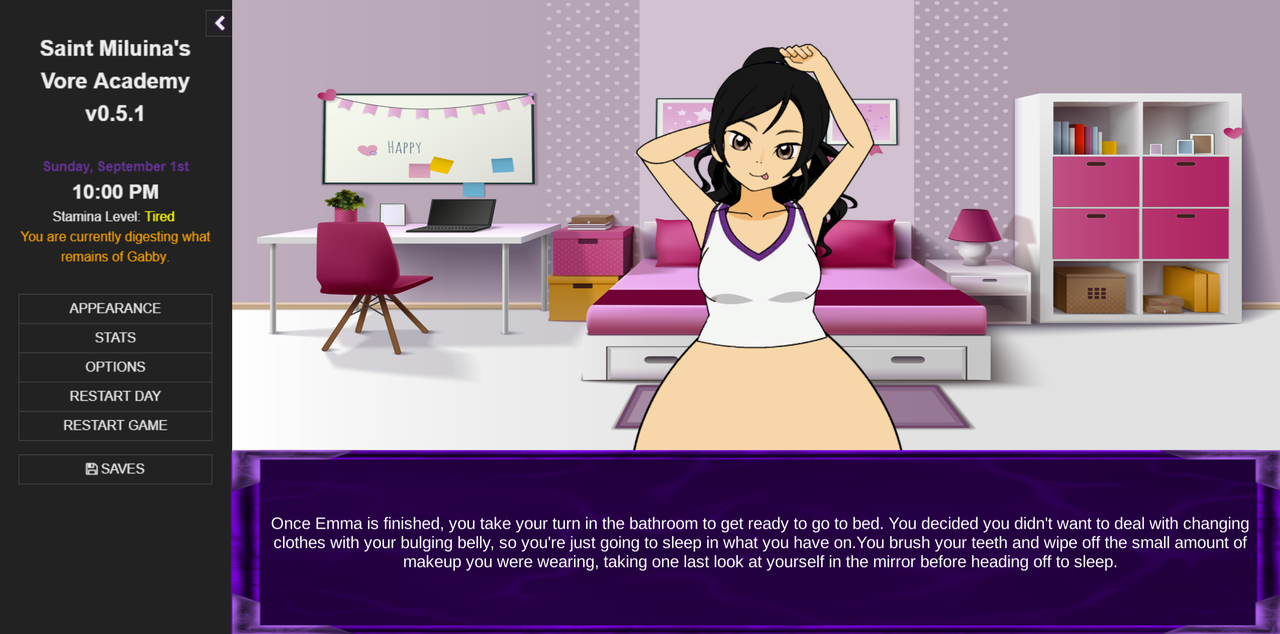 Known Issues
=========
Giving your character the same name as another girl can cause that girl's scene keyframes to not appear
A few textures need their compression resolution increased. If you see strange artifacts on a character, please let me know who and when
Resizing the window during a scene can adjust the positions of currently-visible girls
Nerd Details
=========
SMVisualA is an elaborate wrapper for the browser game - all game logic actually runs in a Chromium browser embedded within the Unity executable, and the graphics layer is driven by a page scraper that sends the user's clicks back to appropriate HTML elements. Graphics were created using a modified version of the Kisekae application, available upon request.
Modding Guide
=========
Created with the express permission of OsmiumOrchid. Contains art by Lampton, Tsavo, Lewdlemage, PeculiarArt, Trash Mammal, Sacred Cow, and Nyxondyx, used with permission. Special thanks to the Saint Miluina's patron discord for beta-testing this mod!