So, this needs a little backstory. Just yesterday I found some bloatware called Plays.TV on my computer that I hadn't really noticed before. If it doesn't ring a bell, it's a recording program - something I don't need, and never really have ever since I bought a capture card that doesn't lag my computer to buggery. Before I thought to uninstall it, I decided to check the files inside first, and it turns out... on several occasions I actually turned recording on completely by accident while playing certain games. For Minecraft in particular, it happened three times, all of which while I was playing on this server up to two years ago.
All things considered it's very mundane footage, but rather than let it go to waste, I thought I'd clumsily take a few screenshots of the recording, if only to offer a small peek into what our server used to look like and how far we've come today. I hope you'll forgive the blurring - Windows Movie Maker is kind of crap for this.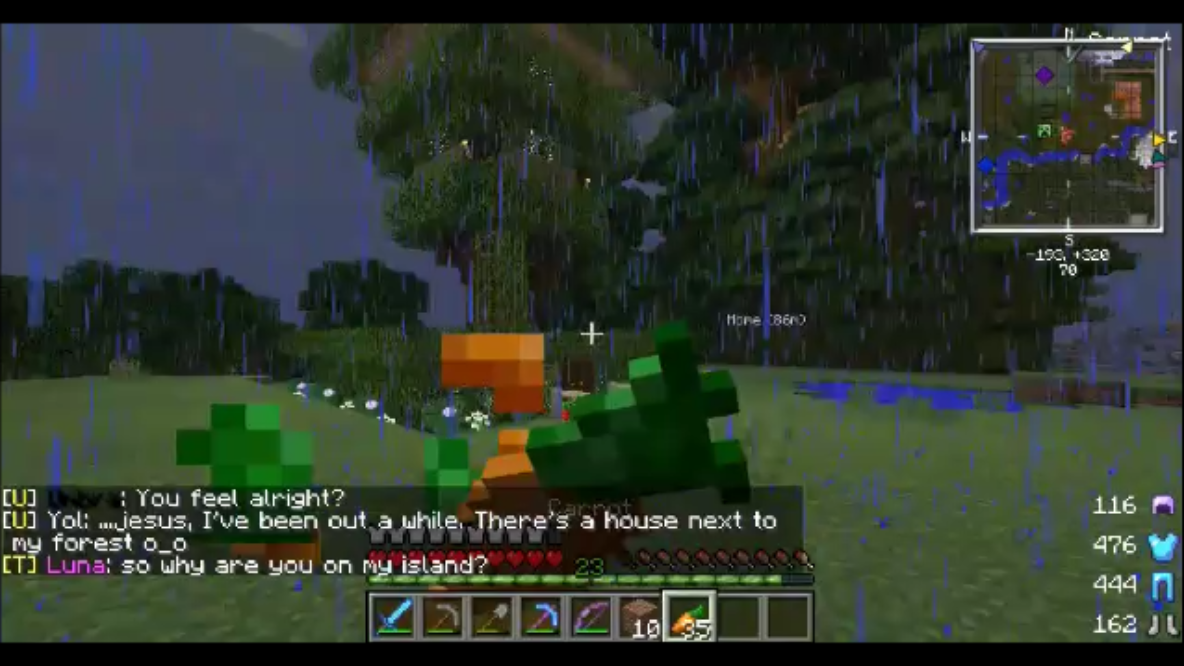 Not everyone is aware of it, but I built that forest in the background almost exclusively by hand - and without moderator status no less, judging by the look of my user tag. Almost nothing has changed inside, as I've moved my main home elsewhere these days, so not much point in showing it off. As you can probably garner from the picture, the closer one I'm looking at is a new (at the time) home that sprouted up while I was gone.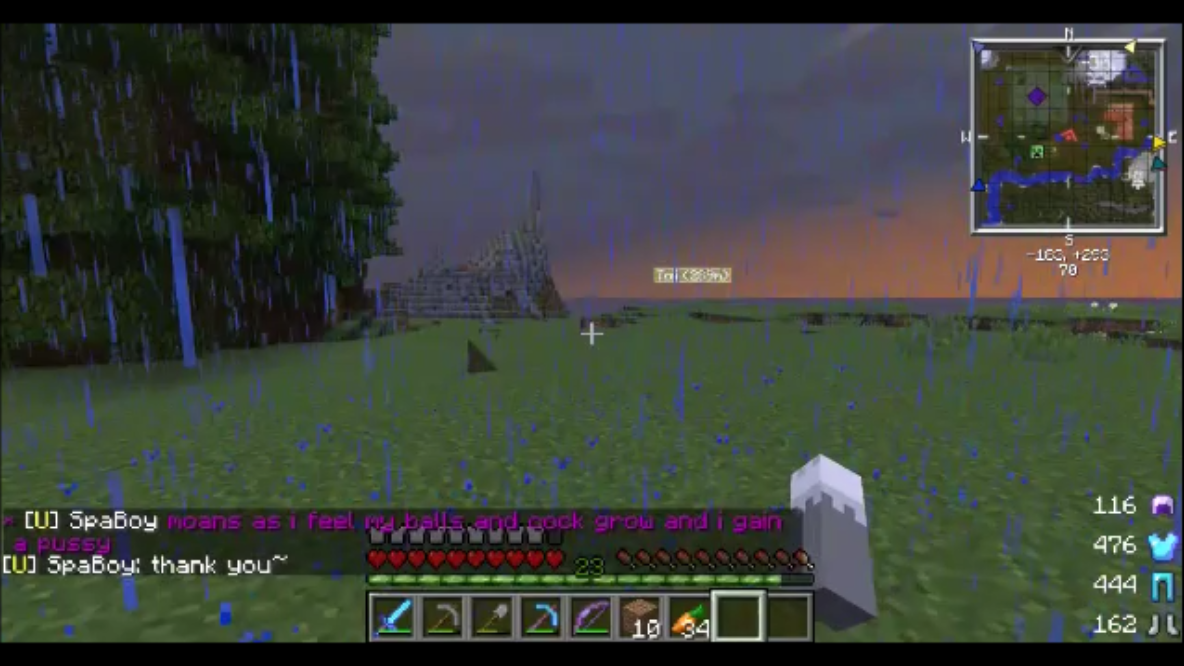 The main reason that came as a surprise is that, unlike today, the area around my old home is practically barren here. It's hard to believe this is immediately east of it, where a good three or four other structures would otherwise be in frame. There would normally be a mountain in the picture too, but my draw distance settings are lower than they should be - strangely enough, there was once a time where my rig couldn't run Minecraft without frame drops.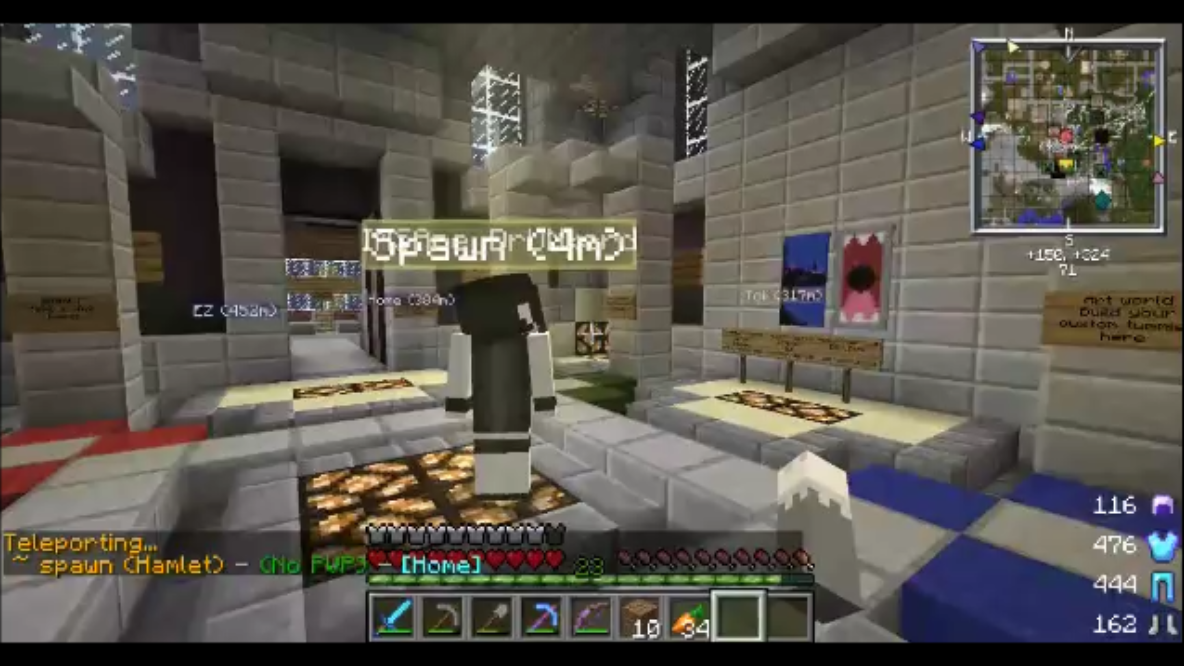 This is the spawn building from the time period. Today's building has exits on all four cardinal directions - apparently the designers of the past thought it appropriate to completely wall off one of those exits to display some fancy banner skills. It's also considerably more cramped and less fancy overall, although the general layout of the room should still be pretty familiar to people who are playing today.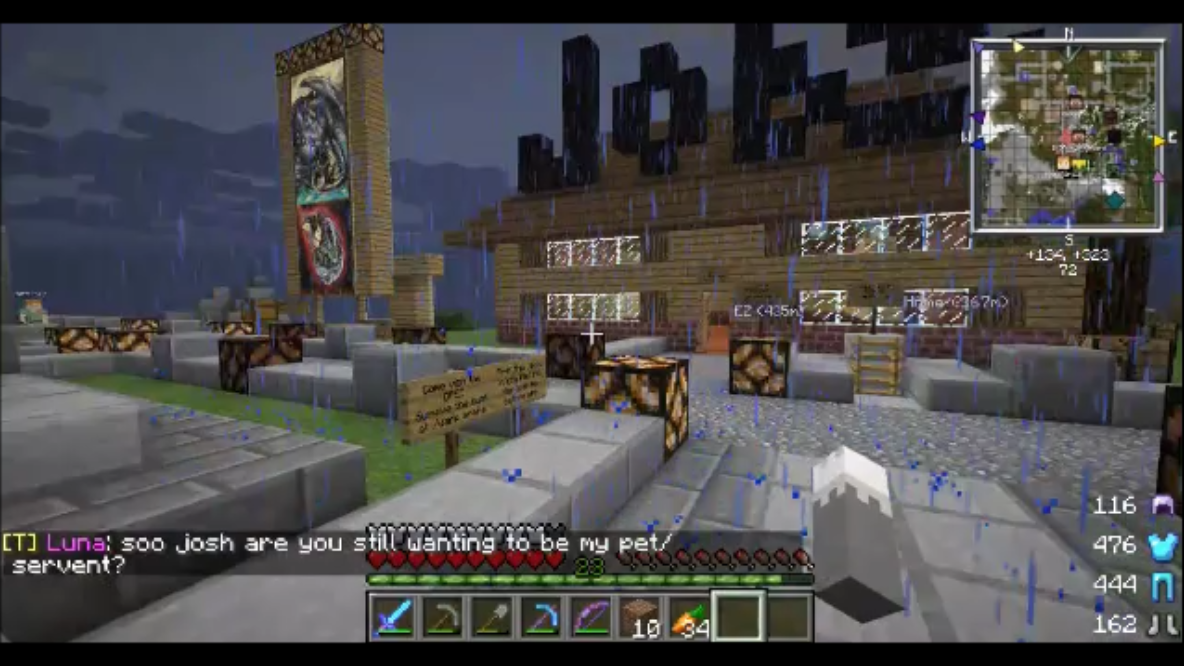 Here's the area just outside spawn. Today there's a water fountain, a diamond wishing well and a Pearl NPC, surrounded on all sides by buildings of various purposes. In this age, there's only a single building dedicated to explaining the /jobs plugin, which we still have to this day. Regrettably I never had any reason to enter it, so naturally I don't have any footage of the interior. Also displayed to the left here is a plugin that imports custom images to the map code, which to my knowledge we don't use today (primarily because it caused a godawful amount of lag).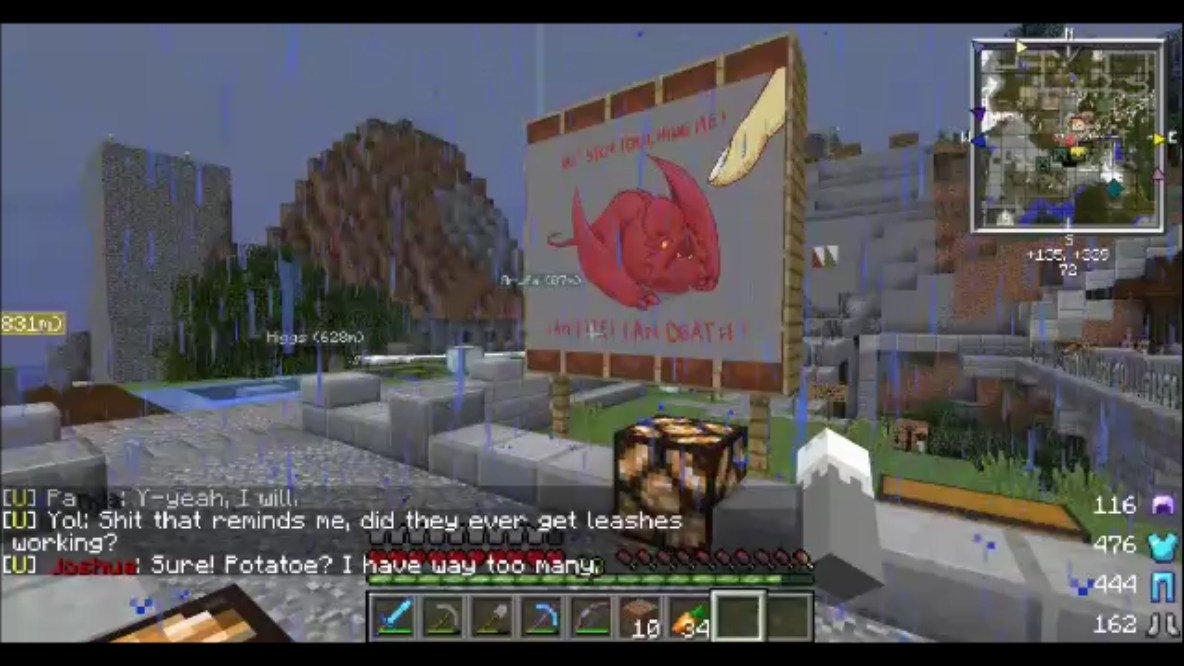 Spoiler: They never got leashes working. Also, more custom pictures.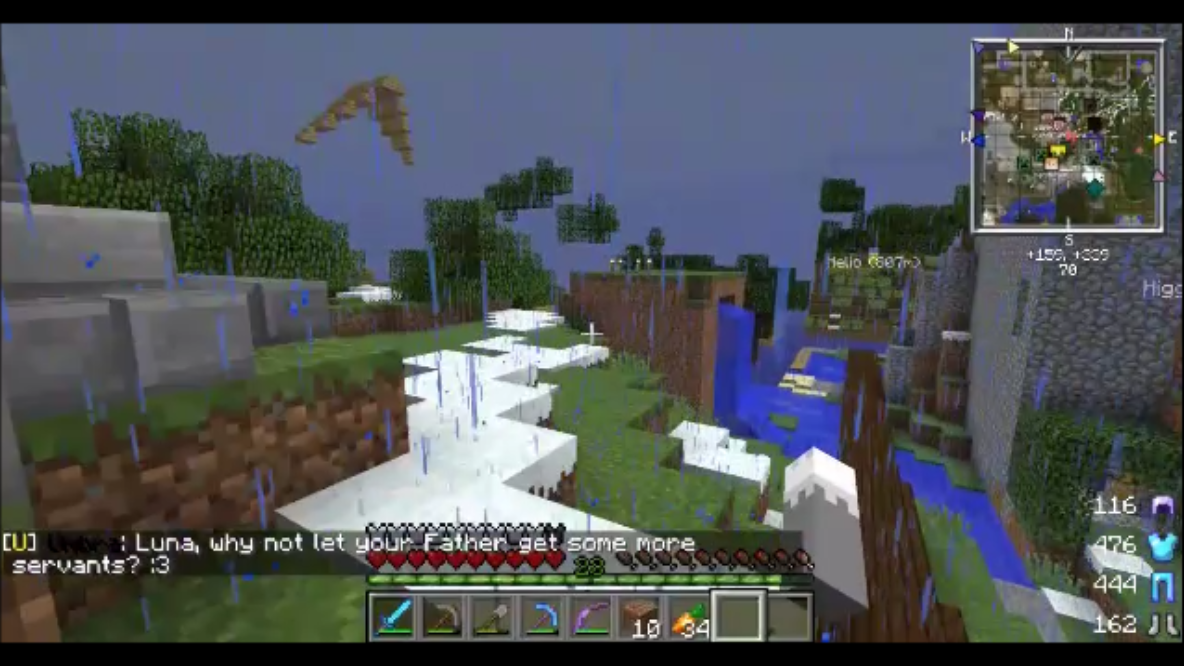 Here's the path down to the mall we currently use for the magic plugin, which you might notice we currently... don't have. In its place is a big, square cobble structure of some description. None of the homes up to the left have been established yet, least of all Sam's (which is probably the most distinct sight that would otherwise be in this picture, let's be real) because no formal process for claiming spawn plots had been established yet. That whole cliff in general has a lot of builds on it today come to think of it - back then the only real sight to speak of was Lulu's cafe. I hope I get a clearer picture of that later.
Normally the infamous "hobo chests" are one of the first things you see right as you leave the spawn building. Before we consolidated them, they were scattered all over the area in various places and generally maintained by regular users rather than members of staff. Here's a handful of them, stocked with cookies and buckets of milk. Actual milk, and not, you know... the
other
kind. Believe it or not, some people back then liked to treat them as interchangeable.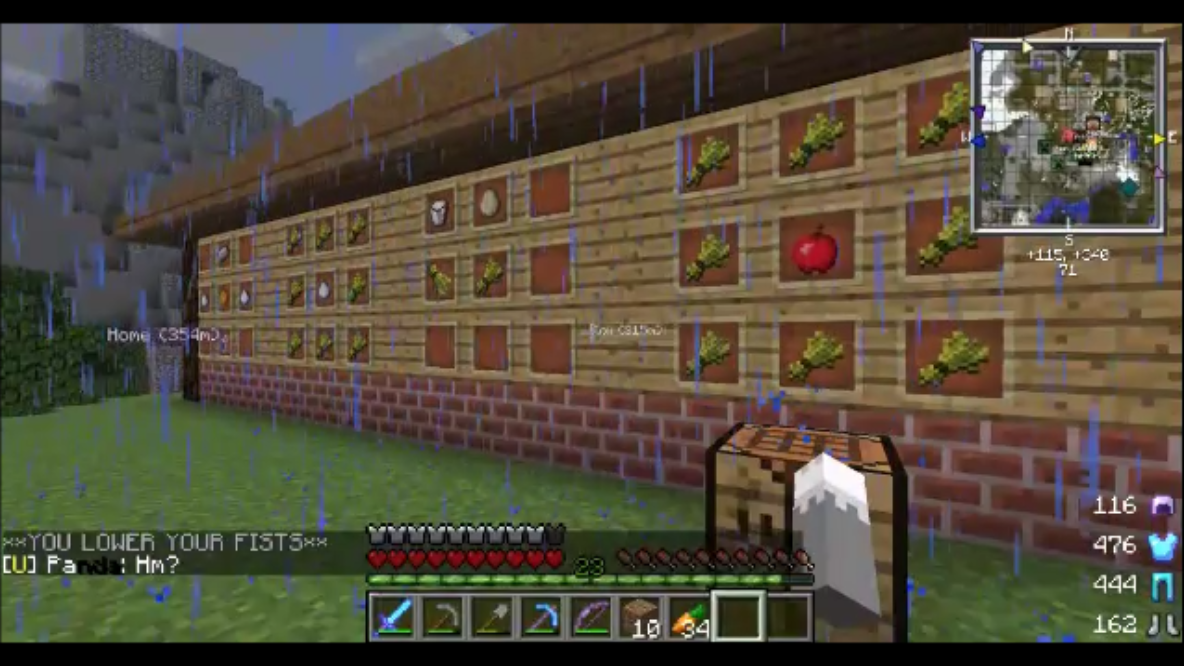 I honestly don't know what these were ever for. Vorecraft didn't start as a strictly vanilla server - preceding it was a heavily (and I mean
heavily
) modded server that relatively few people joined out of mandatory mod installation woes, and the server we know today was built on top of that. I can only assume we used to have some custom food mod and these were supposed to be crafting grid guides, and like a handful of other things (like Gulliver's Mod) some of the related guides they built for it weren't taken down. I dunno, it never occured to me to ask.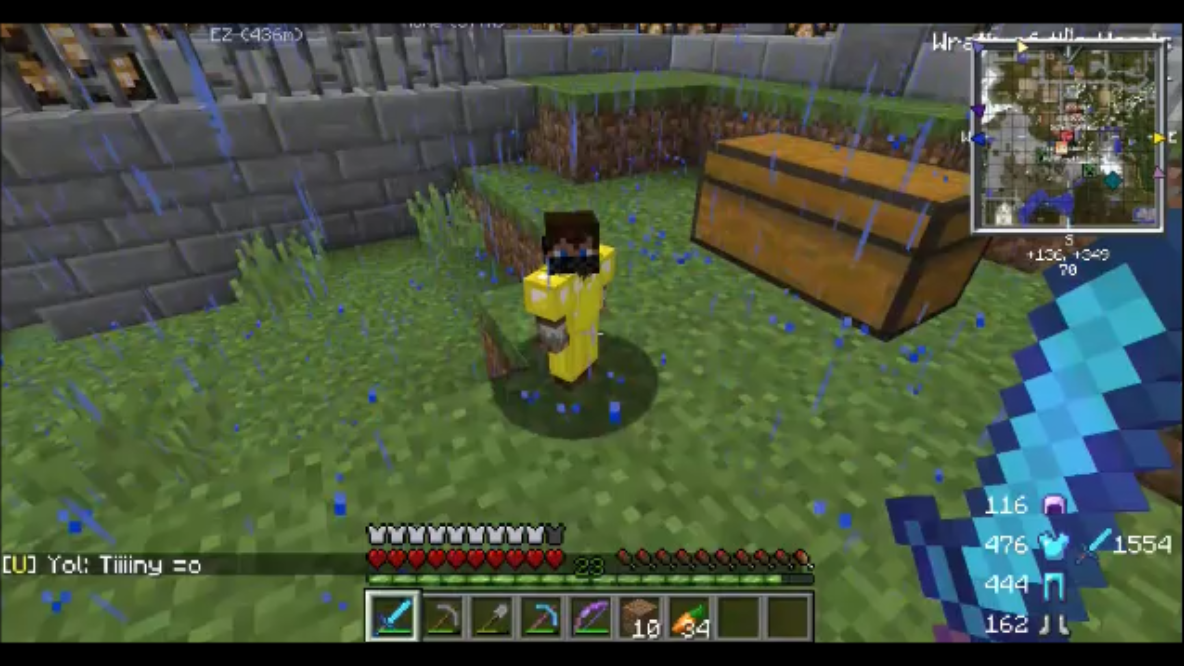 More Player Models, on the other hand, is still as much a staple two years ago as it is today.
Here's a more straight-on look at where the magic mall is today. Most of that cliff was probably dug out to make room tbh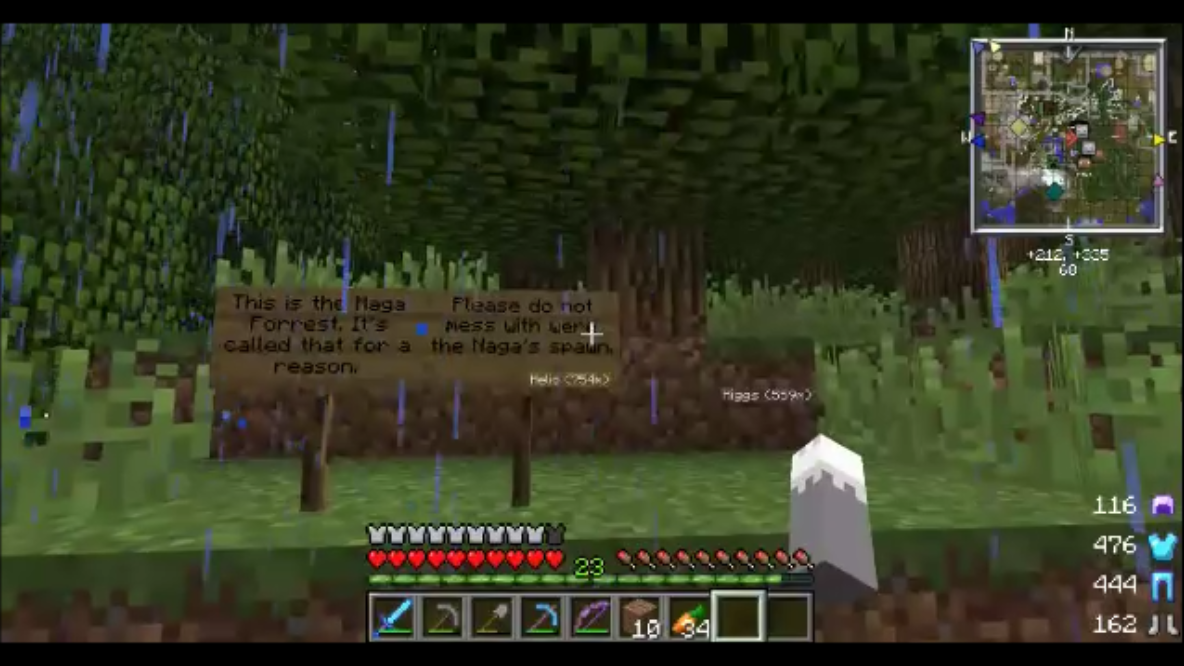 A little further down the path, you bump into this. These aren't empty threats for flavour text - we did in fact have hostile NPCs randomly respawning in these woods just bordering spawn. They were never anything special - in fact they weren't even actual nagas, just reskinned Steves that would punch you if they got close enough. And disappointly enough, they never had any kind of vore capability, as much as I'm sure some people hoped otherwise. This attraction actually became increasingly controversial as time went on, because as spawn expanded, buildings started to encroach on their territory, and they started chasing people back into spawn and killing them. They were eventually phased out, though only after it was discovered they were also hostile towards invisible objects intended only to display hovering text, which was equal parts goofy and self-defeating.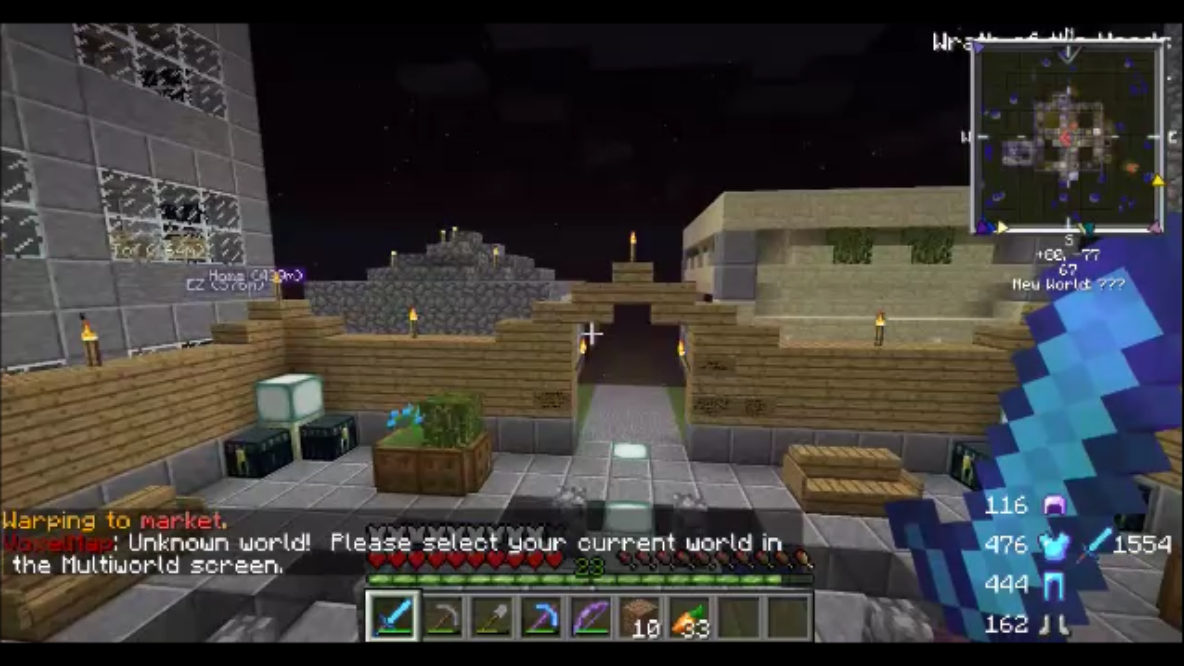 Unbeknownst to some today, we once had an entire separate world exclusively for player-made shops, built on top of a Superflat map. This was generally done autonomously by way of signshop plugins, where players could set their own stock and prices and their balance/inventory would change accordingly.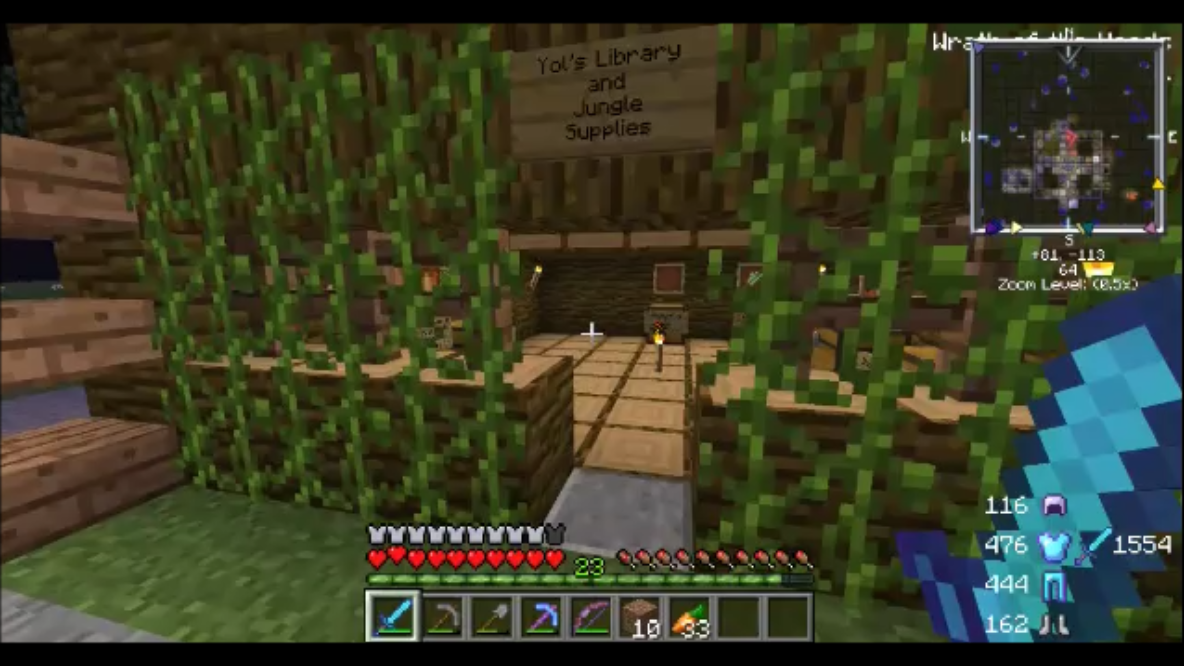 I had a shop of my own, of course. Because I had a huge surplus of jungle wood from the aformentioned jungle home that would go on to be my primary export for a while, and I would go on to sell books and quills with the greater goal of becoming an ingame retailer of player-written books. The fact that written books were completely incompatible with the shop plugin, however, cut my dreams short - of course, those of you who know me today know I never quite gave up on ingame books, as I've currently written one interactive story to completion and am currently working on a second one, with the playerbase of Vorecraft providing me with direction in both cases.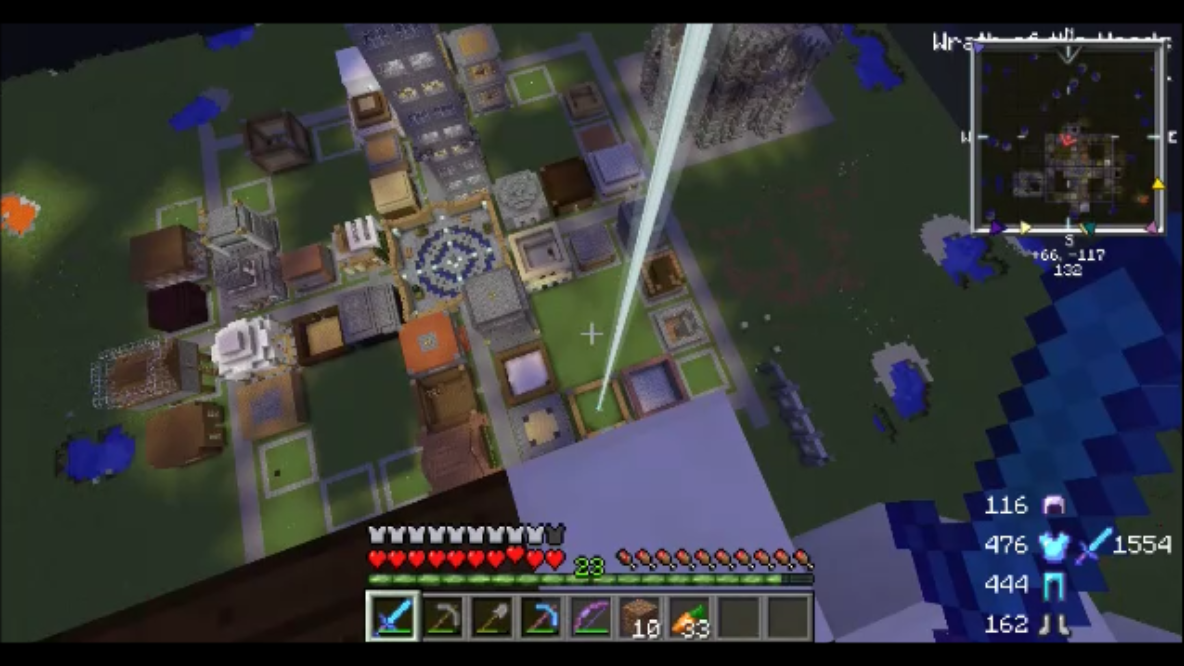 And here's a view of the entire marketplace, as seen from the tallest building at the time.
Some of you might notice that this warp is currently inacessible. In fact, we decomissioned the whole world. Why? Funnily enough, because everyone there fancied themselves a JRPG protagonist - always eager to dump massive amounts of crap out of their arms for a quick buck, and too cheap to actually spend their money on other player's random crap, most of which you can just mine out of the ground for little effort anyway. Suffice to say, a stable economy never really developed, and the marketplace fell into disuse. Once the original shop plugin started glitching and failing, that was the final nail in the coffin.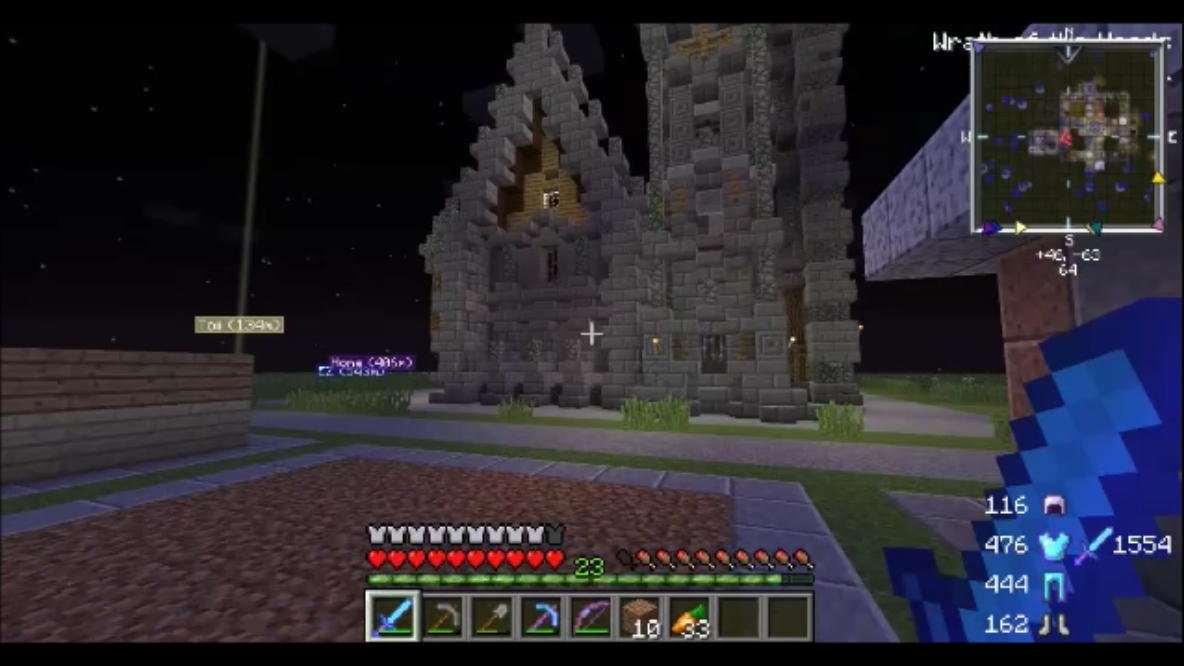 On one last note, the marketplace also housed this
ridiculously
elborate build that wasn't even a shop. Who built it? How did it get there? What was it even for? I never found out. It does look fairly pretty from here, but the interior is basically hollow. XD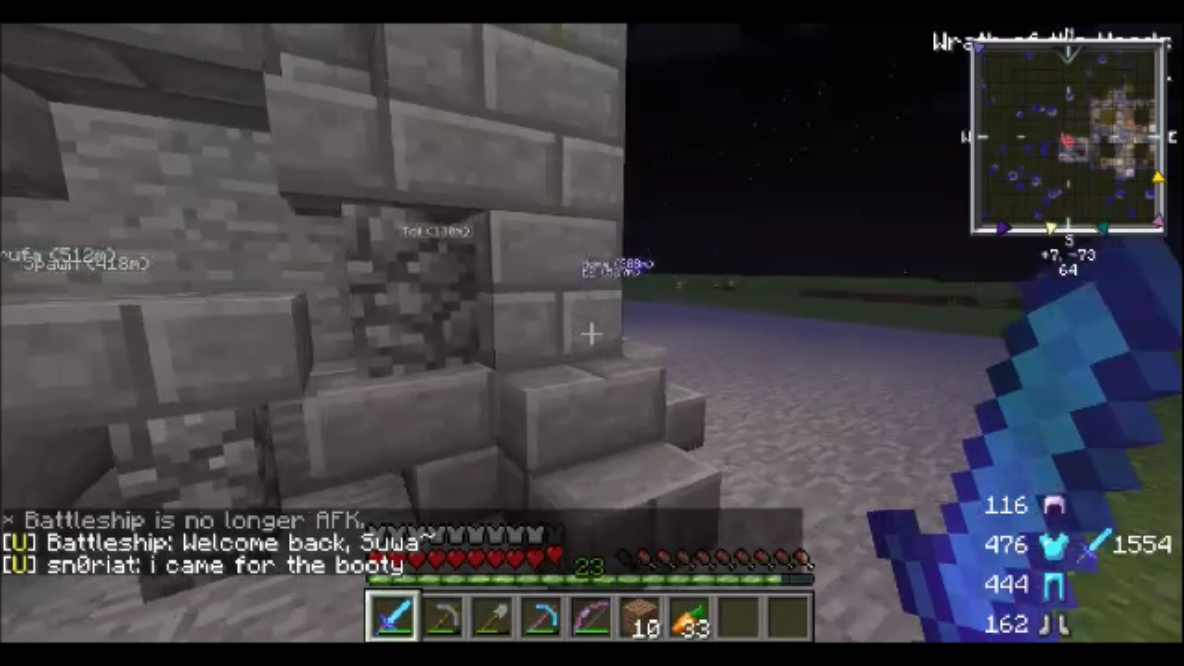 Sn0riat may not have been an admin on the server yet, but some things clearly never change.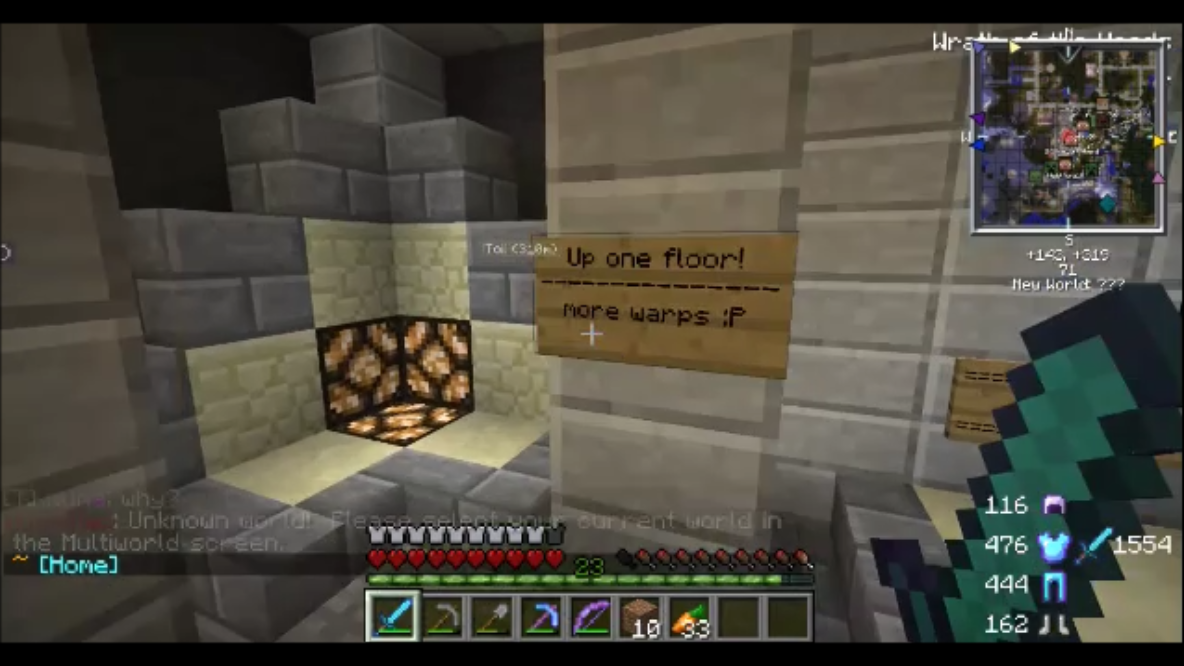 Back in the spawn building again, we find that it used to have several floors and elevators between them. There's nothing special up there, mostly just empty square rooms with command blocks linked to /warps in them. It was also where we used to store the reference books for our tutorial quiz, which used to take place in the main world rather than its own separate, isolated world with statues and stuff. Suffice to say, after people started breaking in with hacks and other various movement assists, we moved it all to a
much
more suitable place.

This is all from a half hour of footage with roughly another hour's worth left, so I should find enough material to make at least one more post whenever I'm in the mood. Stay tuned.